The client, an ambitious venture in the blockchain space, had a vision to create an NFT marketplace that could cater to a diverse range of digital assets. They required a platform that was secure, user-friendly, and capable of handling high volumes of transactions.
The key challenges were to design a user-centric interface that would appeal to both seasoned and novice NFT traders, and to develop a robust backend that could handle the complexity of NFT transactions on the blockchain. The platform had to ensure the secure minting, buying, selling, and transfer of NFTs while maintaining the highest standards of security and transparency.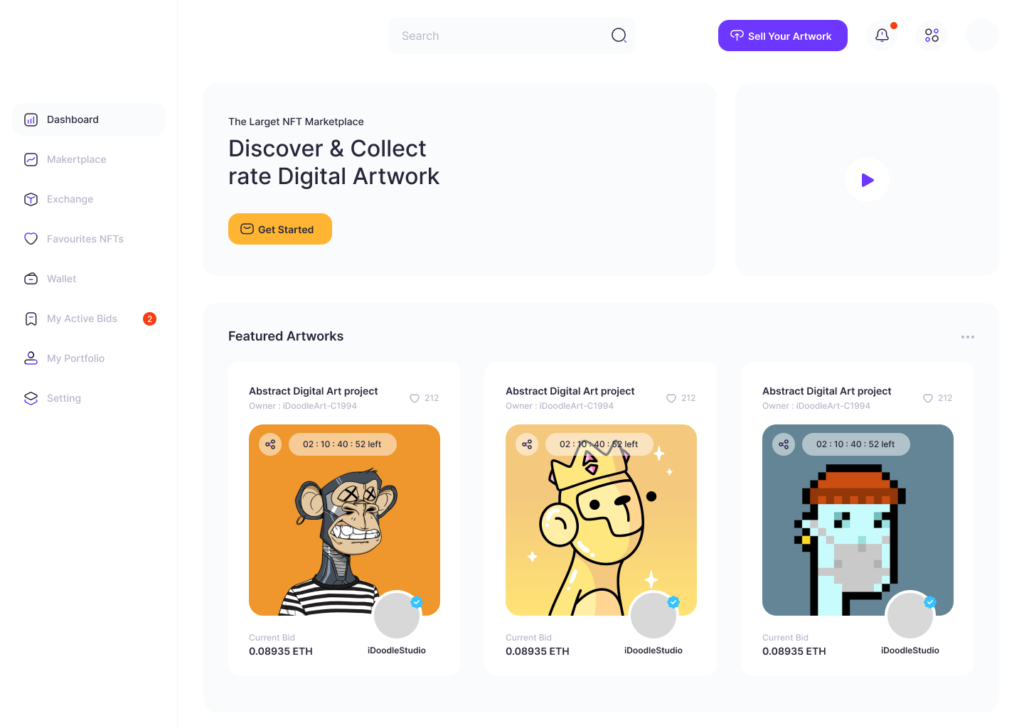 Our team at softstack collaborated with the client to understand their needs and the unique features they wanted to incorporate into the platform.
The user interface was designed to be clean, intuitive, and engaging, providing users with an enjoyable experience while browsing, buying, selling, or creating NFTs. Every element, from the listing of assets to the transaction pages, was designed to be easy to navigate and understand. The design was created to accommodate a broad range of digital assets, including art, music, virtual real estate, and more.
Backend Development and Smart Contracts
The backend was developed on the Ethereum blockchain due to its widespread acceptance and robust community support. Smart contracts were used to facilitate the minting, buying, selling, and transfer of NFTs. They ensured each transaction was executed securely, transparently, and without the need for intermediaries.
The smart contracts were extensively audited and tested to ensure they were free from vulnerabilities and capable of handling a high volume of transactions.
The end product was a comprehensive NFT marketplace that seamlessly combined an appealing user interface with a robust backend. The platform has been well-received in its stealth mode testing phase, and the client is preparing for a public launch.
This project showcases softstack's capabilities in Web3 development, including UI/UX design, backend development, and smart contract programming, while keeping security and user experience at the forefront of our design principles.
Ready to transform your business with Web3? Contact us today and let's build the future together!
Drag to scroll horizontally <——>